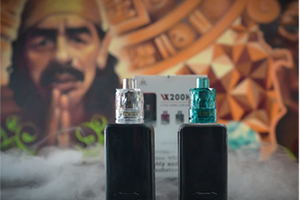 WGV New Products 7/27 - Aqua E-Liquid/Salts | WGV Hiring Event | WGV Huntley Adoption Event
---
---
Another hit by Marina Vape, we are FULLY STOCKED on AQUA SOUR MELON ICE eliquid and AQUA SOUR MELON and SOUR MELON ICE nic salts at Wise Guys Vapes!

An instant hit, Aqua Sour Melon is a juicy blend of candied watermelon sprinkled with sugar and a hint of tart, sour flavor. The ice version is a cool menthol twist that'll have you cooler than a Polar Bears toenails!

E-liquids available in 0, 3, and 6mg nicotine in 60ml bottles with a VG/PG Ratio: 70/30

Nic Salts available in 30ml bottles in 35mg and 50mg Nicotine

Shop Aqua E-Liquids»

Shop Aqua Salts»
---
You want a job Ernie?

Think you have what it takes to be a Wise Guy or Gal?

Wise Guys Vapes is hiring aggressively across our 16 retail locations. We will have hiring events tomorrow at our Crystal Lake and Lombard locations from 10AM to 3PM!

https://www.facebook.com/events/486776925465946/

https://www.facebook.com/events/2661366020564542/

We will be doing on the spot interviews so make sure you bring your resume! Food and drinks will be provided!
---
Wise Guys Vapes Huntley is proud to welcome the good folks over at Bark of an Angel to our 1 yr. anniversary party by hosting an in-house adoption event! Bark of an Angel Dog Rescue is a 100% foster based rescue funded entirely on donations and community support and are committed to saving Dogs of all ages!

We will be providing discounts throughout the day, hourly raffles, free food and beverages, and hopefully a new furry friend for you and your family!

https://www.facebook.com/events/452064282305361/

Location: 12392 Princeton Dr, Huntley, IL 60142
When: August 3rd 1PM - 10PM
---
Another customer favorite to pair with this week has been the Suorin Air Plus Pod System Starker kit. Featuring an upgraded chipset, greater wattage and e-liquid capacities, and two different cartridges for freebase or nicotine-salt e-liquids, the Air Plus sets a new benchmark in all-in-one devices.

Featuring its now iconic flattened surface region, the Air Plus resembles a top-shelf smartphone. It allows you to change resistance ratings between 0.7 ohm to 1.0 ohm easily. The 0.7-ohm cartridge is best optimized for freebase-nicotine whereas the 1.0-ohm cartridge is targeted particularly for Salted stimulants.

We are FULLY STOCKED on the replacement pods as well so come get your COMPLETE setup today!

Shop Suorin Air Plus Pod System»
---
Excited to welcome in the new Uwell Valyrian II Sub-Ohm Tank to Wise Guys Vapes!

Picking up where they left off in kicking ass, after 3 years of R&D, UWELL presents self-cleaning technology with no more e-juice leaking from airflow holes. With the new generation flip cap design, one press to fully open the top cap, UWELL has made it easier to add juice.
The innovative UN2 coils can heat evenly and single, dual, triple and quadruple coils are available.
Size: diameter 29 mm × height 60.6mm
Tank capacity: 6 ml
Coil specifications:
FeCrAl Quadruple Coil 0.15 Ω = 100-120 W
FeCrAl UN2 Single Meshed Coil 0.32 Ω = 90-100 W
FeCrAl UN2-2 Dual Meshed Coil 0.14 Ω = 80-90W
FeCrAl UN2-3 Triple Meshed Coil 0.16Ω = 90-100W

Shop uWell Valyrian II Sub-Ohm Tank»
---
For all your vape and glass needs, stock up and save with our everyday low prices,

and as always
#VapeWISEly my friends!
---
1 comment